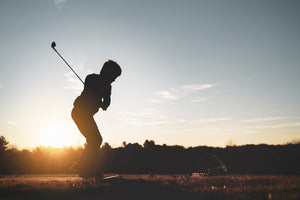 Why You Should Get Your Child Involved in Golf
By Ray Dingledine, GBB Contributor, Junior Golf Insider
Introduction

If you are looking to get your child involved in an athletic activity you have plenty of options. Depending on where you live, you could try baseball, basketball, football, soccer, lacrosse, dance, swimming, hockey, or tennis, just to name a few. For your child's athletic development, we recommend they try multiple sports to identify their true passion and we also recommend you add golf to your list of options.
Golf is unique when compared to other junior activities. It requires as much mental strength as physical. You can enjoy the game with family members and friends of all ages – their grandfather might struggle to play basketball with them but can enjoy a trip to the driving range.

The Golf Course is the Ultimate Classroom

There are many lessons to be learned on the course. First, the game itself requires concentration and patience. Yes, it can be frustrating, but your junior golfer will learn how to bounce back from a bad shot and feel the joy of sinking a long putt. The ability to recover from a mistake will help them in other sports and in life.
Another unique aspect of golf – there is no referee or umpire making calls or keeping your score. It is your job as the player to track your shots and count your total strokes. If there is a penalty, the player calls it on themselves.
Finally, your child will learn to interact with adults. If your child spends time on the driving range or the course, they will eventually play with an adult or discuss golf with them while practicing. This type of casual interaction with golfers of all ages will improve your child's confidence in social settings and they will build relationships. Very few junior sports offer this type of experience. As you child learns the game, you should make a point of letting them play with you and your friends on the weekend.

A Lifetime Gift

How many junior activities can last a lifetime? Golf is the one sport that you can play from the age of 5 to 105. Getting your child starting early will give them an activity they can play for years and potentially even pass on to their children.
It is a great family game. Is there a better way to spend an afternoon than 4 hours strolling down the fairway with your kid(s)? Golf is a great way to get them to unplug from the video games and you will be amazed by the conversations you will have with your children while on the course.
At the end of the day, it does not matter what you shoot or how many balls you lose. Golf offers quality time with your children that you cannot get from other junior sports.
It may be hard to see now, but before you know it your child will be headed off to college and start their own family. Golf will continue to offer you a great way to stay connected, hear about their life, and simply enjoy spending time together.

How to Get Your Child Started in Golf

Golf can be a difficult sport to start. There are very few naturals at playing the game and you want to avoid your child getting frustrated.
Introduce them to the game slowly. It might be as simple as taking them to lunch at the course and let them watch people play the 18th hole while they eat their grilled cheese and fries.
Once you spark their interest, keep it simple and fun. What child does not like riding around in a golf cart? The next time you play, take them with you. Sure, they can hit a few shots if they are interested, but more importantly let them see you enjoy the game and let them cruise around in the cart.
Now they are asking to play, but do not pressure them to go play 18 holes. Take them to the driving range and putting green. Do not over instruct them, simply let them try to smack the ball. You can show them some basics on how to hold the club, etc., but really just let them see how far they can hit a driver. Head over to the putting green. Challenge them to a putting contest and maybe let them win.
Is your child enjoying the game? It might be time to try the course. Make sure you let them play from short yardages.

Operation 36 is great program for you to consider. Basically, players start from 50 yards out, once they can shoot 36 on 9 holes from that length, they back up to 100 yards and they continue this process until they can play from normal tees. This is a great way for beginners to learn how to score.

If you child is hooked, the final step is transitioning to competitive golf. This can be scary, because for the first time your score will be posted for others to see. Take it slow and make sure you sign your child up for tournaments that are appropriate for their skill level. PGA Jr. League is a great way to start competitive golf. The format is team based and more experienced players on the team can help the beginners. Much less pressure than an individual event.

Final Thoughts

Get your child started in golf. It is a great complement to other activities they may enjoy, and it is something they can play for years to come. Take it slow and help them be patient. It will take them some time to play the game well, but the younger they are, the quicker it will come. The friends they make on the golf course will last for years and you will never regret introducing them to the game.
---