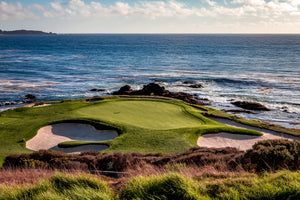 Why Golf is The Best Sport on the Planet
By GBB Staff
Introduction 
What is the best sport on the planet? Great question. It sounds like an argument that could go on in a Sports Bar for several hours. There are many great choices. Basketball, football, soccer, baseball, cricket, darts, hockey, bowling, or swimming. All great options, but none of them are the right answer.
The clear winner is Golf and to be honest, we don't even think it is close. Do you agree or do you think we are crazy? Hear us out. Below we have outlined our argument – give it a read. Have an open mind and we think we can convince you. Golf is the best sport on the planet!
Play for Your Entire Life
Golf is unique. You can literally play from age 5 to age 95. Have you ever seen an 80-year-old play linebacker on the football field or point guard for a basketball team?
One of the greatest golf achievements is shooting your age. A great goal for all golfers. Practice your game, stay fit, and you have a shot. Even if you never shoot your age, you will get years of enjoyment from the game and make many friends along the way.
Fresh Air & Exercise
Another awesome benefit of playing golf is spending 4-5 hours outside, getting fresh air and exercise. Did you know that if you walk 18 holes you will cover ~7 miles? Leave your smartphone at home and unplug from your stressful job.  Enjoy nature, burn some calories, and enjoy a round of golf. Couldn't we all use more fresh air and exercise?
Family Time – Multi-Generational
Take the family to the course and enjoy hours of competing, talking, and being together. Can you think of another sport that allows a grandson to play with their grandfather or great grandfather? It is the perfect sport for your parents to teach your children.
If you child starts to compete in tournaments, let their granddad or grandmother (or aunt/uncle) caddy for them. You will be creating priceless memories and bringing your family closer together.
You Can Play Where the Professionals Play
How easy is it to play a pickup game of basketball in Madison Square Garden? What if you wanted to play some baseball at Wrigley Field or some football inside an NFL stadium? Unless you are a billionaire this is virtually impossible.
In golf, you can play the same courses the professional play by simply making a phone call. Make a tee time at Pebble Beach, Bethpage Black, Pinehurst #2, or TPC Scottsdale. You will get the chance to play the same holes Tiger and Rory played. You can try the same shots you watched them hit on TV. You can walk the same fairways and relive some of the greatest moments in the history of the game. A truly unique opportunity that only golf can offer. 
Any Two Players Can Compete
In most sports, the better player will always win. Sure, it would be fun to play Luka Doncic in one-on-one basketball, but you are going to lose 11-0. There is simply no easy way to level the playing field in most sports.
Golf is not most sports. The World Handicap System allows two players of different skill levels have a fair match. You simply enter the scores you shoot and the WHS will determine you handicap. If you have an 8-handicap and your buddy has a 12-handicap, you must give him a stroke on the 4 hardest holes and now the match is fair.
This is a quick and efficient way for any two, three, or four golfers to have a fair match, and it only takes a couple minutes to determine the correct number of strokes. You could even make a fair bet with Phil Mickelson – he would probably have to give you a bunch of strokes.
One Great Shot Will Get You Excited for the Next Round
It is true – golf can be a very frustrating game. When you first start playing, you will be surprised how hard it is to hit that little white ball in the correct direction. Putting can drive you crazy on fast and undulating greens and one bad swing can ruin your career round.
All of this is true, but there is something unique about golf. One great shot – one perfect swing or long putt that drops will get you excited for the next round. Only golfers know the feeling of a perfectly struck golf ball. Once you do it, you want to do it again. You can shoot a terrible score, but the few great shots you hit is what you will remember. They will be the reason you head to the driving range to practice, or why you make a tee time for next weekend.
Every round of golf has at least one great shot!
The 19th Hole
Regardless if you shot a new personal best or had a day you want to forget, the 19th hole is waiting for you. Have a cold beverage, grab a snack, and hang out with friends discussing the round you just played. Make fun of your bad shots, brag about your good ones, and if you played well, maybe you collect a few bucks from your buddies.
The 19th hole is always the perfect ending to your round. There are some golfers that enjoy it more than the first 18 holes. In case you are new to the game, the "19th hole" is what golfers call the course bar/restaurant.
We Dare You to Find a Better Sport
Did we convince you? Do you already play golf or are you thinking about getting started? We dare you to find another sport that you can enjoy with friends & family, while getting exercise, and reliving famous shots hit by professionals. Oh yeah, we didn't even mention the 19th hole.
Dust off those clubs. Make a tee time. Text your buddies and/or your family to see who wants to join you. Come up with a fair match for your group and head to your local course. You will never regret the time you spend on the golf course.
---