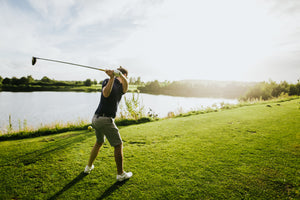 What Has Us Excited for the 2021 Golf Season
By GBB Staff
Introduction
It is safe to say that we are all happy 2020 is over and behind us. In the world of golf, many events were cancelled or postponed and some of our favorite players had to withdraw from big events due to the COVID-19 pandemic.
While we haven't solved the virus yet, we have learned about how to live with it and we are hoping to have an uninterrupted season in professional golf. 2021 is setup to be a historic year in the sport and below we highlight our favorite stories.

We Must Start with the Majors
In professional golf all players start their year dreaming of winning a major. Back to a normal schedule in 2021, we will get started in April at Augusta. We were just there, right? Yes – for the first time ever Augusta National will host back-to-back majors. Does Tiger have a chance at number 16? Can Dustin defend his November win? Will Bryson be more successful this time in his attempt to overpower the course? We are excited to see the azaleas bloom!
In May, we will travel to Kiawah Island in South Carolina for the PGA Championship. The course that famously hosted the ultra-competitive "War on the Shore" Ryder Cup in 1991. The Ocean course does allow public play, so you might want to add it to your golf bucket list.
In June, the tour will return to Torrey Pines for the US Open. Does anyone remember the last US Open to be hosted on the South Course? It was Tiger's win on a broken leg and site of his famous "did you expect anything different" putt on the final green.
The final major of the season will be hosted by Royal St. George's in July. This will be the 15th time the Open Championship has been played there, with the most recent being in 2011 when Darren Clarke took home the Claret Jug.

Ryder Cup & Solheim Cup – Who Doesn't Love Team Golf?
In 2021 we will be treated to the rare gift of both the Ryder Cup and Solheim Cup in the same year. It will be very interesting to see who will make the teams.
For the US Ryder Cup team, only 6 will join the team based on points and the other 6 will be captain picks made by Steve Stricker. Right now, the 6 that would qualify are Dustin Johnson, DeChambeau, Justin Thomas, Morikawa, Koepka, and Schauffele. A strong start and captain picks are always interesting. The European team has even more flexibility on how the team is determined, but we can expect it to be anchored by Rory, Rahm, and Hatton.
While it may get less attention, the Solheim Cup may be even more exciting. The US team will be led by the Korda sisters, Danielle Kang, and Lexi Thompson. If you haven't watched this event in the past, do yourself a favor and catch it in 2021.
The LPGA has some amazing talent and making a push in 2021 to get more support from fans and media coverage. If you don't typically watch their events, give them a try this year.

When/Where/How is Tiger in 2021?
Even at age 45 Tiger Woods continues to be most watched and talked about player on the PGA tour. He has switched from a dominant terminator on the course to the likable veteran who cherishes every moment.
Unfortunately, he recently announced his fifth back surgery putting his 2021 season in jeopardy. Will he be back to normal? Will he be able to play at Augusta in April? What shape will his game be in when he returns?
We have learned to never bet against Tiger, but Father Time is undefeated. Can he still chase Jack's record of 18 majors? Regardless if you are a Tiger fan or not, you must admit that he moves the needle for the PGA tour unlike any other player.

Can Fan Favorites Breakout of Their Slumps?
Ricky Fowler and Jordan Spieth are two of the most popular players on tour, but both have been struggling to find their game. Once promising careers have hit some bumps – will 2021 be the season they find their form?
Let's start with Jordan. In 2015 he won 5 events, $12MM+, and won both the Masters and US Open – a truly historic season. He played well in 2016 & 2017 winning 5 more times, including the Open Championship. We didn't know it at the time, but the slump started in 2018 when he failed to win and ended up 31st in the FedEx rankings. In 2019, he fell to 44th and in 2020 all the way the 107th. Jordan has talked publicly about fighting both his swing and frustration. He reached #1 in the world golf rankings back in 2015 but has fallen to #91. Let's hope 2021 is the year he returns to the winner circle.
Rickie's high wasn't quite as high as Spieth's and his slump may not be as deep, but he is definitely struggling. Back in 2014 he was top-5 in all four majors and his biggest win came at The Players Championship in 2015. He reached as high as #4 in the world golf rankings, but the last few years have not been kind. He has slipped to #61 now and in 2020 had 8 missed cuts versus only 2 top tens.
Rickie and Jordan have a unique ability to grow the game – junior golfers love them and they do a great job engaging the crowd. It would be awesome for golf for them to get back in the mix on the weekends.
What Has You Excited for 2021?
The PGA tour seems to be in a great place with veterans like DJ, Thomas, and Brooks playing well, but being challenged by a huge contingent of young players. Rahm, Wolff, Hovland, and Morikawa have come out of college and immediately started collecting trophies. We can't wait to see a full season of golf and find out who can get it done on Sundays!
---