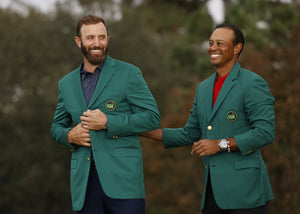 Top Golf Highlights from 2020
By GBB Staff
Introduction
2020 has been a strange year both on and off the golf course. The PGA tour was operating as normal until the week in March whenever everything stopped. One round of the Players Championship was played, and the tour was halted while we figured out the COVID-19 pandemic. It took a few months, but safety protocols were established, and professional golf returned in June.
What did it look like? The same, but different. A withdrawal or two each week due to a positive test and no fans in attendance, but the TV product was still high quality. The schedule had to be adjusted. The Masters in November? Ryder Cup postponed. The Open Championship cancelled. Even through all the chaos, we still got to see great golf in 2020.
What was your favorite golf moment of 2020? Who was your favorite character?
3 Major Champions Crowned
Each of the 2020 majors produced a different winner, with a different story. It all started with Colin Morikawa winning the PGA Championship. He was part of the monster class of 2019 – a class that also includes Victor Hovland and Matthew Wolff. These guys joined the PGA tour and immediately started contending in and winning tournaments. Wolff came close in the US Open, but Colin was the first to grab a major. The highlight we will see for years is his drive on the par-4 16th on Sunday. Colin hit driver to 7-feet, made eagle, and held off Paul Casey to hoist the trophy.
Next, we saw something we have never seen before at the US Open. Bryson didn't just win – he overpowered the course with his length. Instead of trying to hit fairways, he simply hit the ball as far as he could and scrambled from there. More on Bryson below, but could this win change how future players attack US Open courses? Could it change how the USGA sets them up?
Finally, we got to enjoy a November Masters. The azaleas weren't blooming, but there was some fall foliage. The course played softer, but it was still immaculate. Not much drama on the course. Dustin Johnson left no doubt, cruising past the field. DJ may not always seem interested, but he continues to display that few if any have his amount of talent on the course. The most exciting shot of the tournament happened in a practice round – so 2020. Jon Rahm made a hole-in-one on 16 by skipping it across the lake – if you haven't seen it, find it online.
Who Moved the Golf Needle in 2020?
Every year there seem to be players that get more attention than others for various reasons. They get talked about the most and seem to dominate debate on golf twitter. For 2020, 4 come to mind.
The Incredible Bulk
No one in the world of golf was talked about more than Bryson DeChambeau.

His mad scientist approach to golf has always been interesting, but in 2020 he stepped it up a notch. First, he decided his path to improvement was through more distance. Many players look to add distance, but no one has attempted a total body makeover. He started eating like a world-class body builder and working out constantly. His only focus – more clubhead speed, more ball speed, more distance. We must admit it appears to be working. Maybe not every week, but he won his first major in 2020. How big will he get in 2021?
The other thing that makes Bryson must watch TV is that he seems to have an interesting opinion on some golf rules. In a July event he tried to get a free drop from an official using the "Dangerous Animal Rule". Was his ball next to a gator or large snake? No – he thought he saw a couple fire ants. Not kidding. Ultimately, the official denied his request for relief.
We have no idea what Bryson will do in 2021, but we are sure it will be interesting to watch.
Phil Mickelson – Bombs, Coffee, and Calves
Even Phil's biggest fans must admit that his golf game is slipping a bit, but even as "Father Time" is catching up with him he continues to be one of the most interesting players on tour.

He loves hitting long drives and calling them bombs. He loves wearing shorts and flexing his calves. He even has a new coffee mixture that he claims helps him stay calm and focused. Did you happen to watch either of the made-for-TV exhibitions this year (The Match)? We learned during these events that Phil loves to talk about golf shots – I mean really loves it. All interesting to see how a generational golf talent thinks.
2020 was a rough year on the PGA tour for Phil. He missed cuts and struggled to keep his driver in the fairway, but he seems to enjoy the game as much as ever. Oh yeah, anytime he needs a victory, he can go play the Champions Tour. He teed it up twice with the "seniors" and won twice.
Haley Moore – Rise Above
Why did a rookie on the LPGA tour make our list? Haley's story is truly inspirational. She has always been larger than other kids her age and because of this, she became a target.

Ruthlessly bullied throughout middle and high school, Haley rose above the noise and has a bright future in front of her on the golf course.

She carried her team to a national championship in college. During the LPGA tour pandemic break she played in 11 events on the Cactus Tour, winning 3. Here third victory on this mini tour included a final day 62 when no one else in the field broke 70. She made it through all 3 stages of Q school and will play full time on LPGA tour in 2021. She is a name to watch going forward.
Tiger Woods the Daddy Caddy
Similar to Phil, Tiger's best golfing days are behind him.

He didn't play much in 2020 and when he did, it wasn't great. The best example is his finish at the Masters. Tiger made a 10 on the par-3 12th (Yes, a 10), but instead of quitting birdied 5 of the last 6 holes. He was not in contention, but still delivers excitement.
Tiger didn't make our list because of his performance on the PGA tour.

His son (Charlie) has started to play tournament golf and Tiger has been seen caddying for him.

Can you imagine showing up with your child at a local junior event and you get paired with Charlie Woods? Oh yeah, and his dad is caddying – some dude named Tiger? We have always seen Tiger as the dominate golfer, but very cool to see him as a Dad.
Conclusion
In 2020 professional golf was a distraction. It provided us a sense of normalcy during a time that was anything but normal. To us golf fans, it may have been more important than ever before, and it delivered. Great shots, great memories, and great people. What was your favorite golf moment from 2020?
Photo by REUTERS / MIKE SEGAR - stock.adobe.com
---