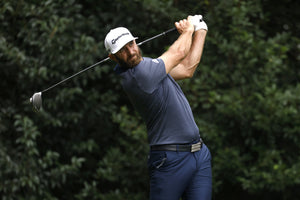 Masters 2020 – A Trip to Augusta Unlike Any Other
By GBB Staff
Introduction
We knew it would be different. Due to COVID-19, the 2020 Masters was moved from April to November. We traded azaleas for fall foliage. We traded a brutally firm course for a soft track. We traded roars echoing through the pines for almost total silence.
We didn't mind the trade-offs, did you? It is amazing how one course consistently delivers magic, drama, euphoria, and sadness. We suspect a January Masters would be great – have you ever tried to putt those greens with a mild frost?

Thrilling Sub-Plots
We will get to Dustin's new green jacket below, but Augusta National consistently delivers amazing sub-plots. You could almost talk about every player in the field, but we have picked our 5 favorites from this year's event.

Rahm's Skipping Hole-in-One
How often does a tournament have a highlight during a practice round? If you have friends that don't watch golf, this might be the shot that gets them interested.
If you haven't seen it, a quick google search will pull it up. A tradition at The Masters is to try and skip your ball across the lake on #16 during the practice round. Rahmbo took it up a notch – his ball skipped on the water 3 times, bounced up on the green and curved into the hole. Truly amazing. Non-golfers around the world thought "will he try that during the tournament?".

Age is Nothing but a Number
All past champions can play in The Masters for as long as they choose. This sometimes means you have a player past their prime struggling to break 90, but it also gives you amazing stories of older gentlemen hitting 3-woods into par 4s and saving pars. 2020 was no exception.
62 year-old Larry Mize fired a 2-under 70 in round one. He averaged under 250 yards per drive off the tee but managed to play the course setup at 7,400+ yards.
Even more impressive, 63 year-old Bernard Langer made the cut and finished the event at 3-under (tied for 29th).

Will Rory Ever Get His Green Jacket?
All Rory needs for the career grand slam is a green jacket. Will it ever happen? We think "Yes", but this year was another lost opportunity.
He has lost this tournament in several different ways and in 2020 he just came out of the gate too tight. +3 after 16 holes on day 1 he looked like he might miss the cut. Instead, he relaxed and started playing. He made some noise on Sunday but dug to much of a hole to seriously contend. Finished the tourney 11-under, tied for 5th. Maybe next year?

The Incredible Bulk Does Not Smash
Much of the pre-tournament hype was focused on Bryson DeChambeau and his plan to tear Augusta apart with power and distance. Before he even teed it up on Thursday golf pundits were worried, he would make the course look obsolete. Bryson told the media that it was basically a par 67 for him.
His assault on the 2020 Masters never took flight. On his second hole (Par 4 11th) his drive when so far left he had to hit a provisional. He did end up finding his ball, but it was a harbinger of things to come. He struggled to hit fairways and take advantage of his length. He lost his drive on the par 4 3rd on day 2 and made a triple bogey. He made enough birdies to make the cut, but never scared the leaders.
Is his aggressive style/strategy flawed at Augusta National or was this just a bad week? Did he put too much pressure on himself? Did he spend too much time pre-tournament trying out a 48-inch driver? Time might answer these questions because we don't think Bryson is going to change his approach. All we know for sure is that round 1 of Bulk vs. Augusta goes to ANGC.

Even While Losing, Tiger Shows Us Why He is Unique
Tiger looks stiff. He limps at times and struggles to get his ball out of the hole. Back surgeries and father time have stolen much of his athleticism, but he continues to find ways to show us he is the GOAT.
For 3 ½ days he hung around. Sort of in the mix, but never really threatening. Then the unthinkable happened. He made a 10 on the par 3 12th. Three shots in the lake. The first time Tiger has ever made a 10 in his professional career.
Obviously, this knocked him out of the tournament. 6 holes left to play. Time to mail it in. Get this round finished, sign your card, and get ready to give the new champion the green jacket.
Did you really think this was how Tiger would respond? He has never quit. Won a US Open on a broken leg. He probably dropped some explicit language, walked to the 13th tee, and reminded us who he is. Finished the round birdie-par-birdie-birdie-birdie-birdie.

DJ Gets His Green Jacket
You might be thinking we buried the lead. Dustin Johnson dominated the field. He left little doubt that he was the best player in Georgia last week. DJ has always been off the chart talented, but some have questioned his ability to close out majors. He doesn't show you much emotion on the course. Doesn't get too high or too low. Does he really care? Does he have the same internal drive as other top players?
If you have questioned Dustin's passion for the game go watch his post round interview on the 18th green. He was too emotional to speak. Clearly this was a dream come true for him. He may not show it on the course, but he cares. He cares about his legacy and about whispers related to his ability to close.
Sunday wasn't perfect. His lead dropped to 1 stroke on the front 9, but it never felt like he was in trouble. By the end, he was able to calmly par the 18th hole for a 5-stroke victory. An added bonus, he gets to receive the green jacket from Tiger.

Final Thoughts
The 2020 Masters was worth the wait. We haven't mentioned the best thing about a November Masters. You don't have to wait very long to do it all again. When is the next golf major you ask? Well, approximately 5 months from now we will back in Georgia for the 2021 Masters! Let's run it back. Can't wait.
Photo by REUTERS / MIKE SEGAR - stock.adobe.com
---