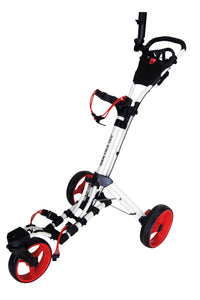 Qwik-Fold 360 Swivel Golf Push Cart Review
By GBB Staff
Introduction
As I was preparing to write this review of the Qwik-Fold 360, I became curious about the history of golf push carts and did some research to find out when they were first used. It may interest you to learn that these handy golf accessories, that are now ubiquitous at golf courses around the world, were originally invented over 75 years ago! Who knew.
A gentleman by the name of Bruce Williamson from Portland, Oregon is credited as the inventor. His original golf pull cart was made from two lawn mower wheels with hard rubber tires mounted on a spring-suspension chassis with a fold-down mechanism which could be attached to a standard golf bag. His new company began producing these basic golf pull carts from a combination of aluminum tubing and sand-casted metal parts.
Since that humble beginning, using rather rudimentary manufacturing processes, the worldwide golf push cart industry in 2020 is now estimated to be approximately $162 million in annual revenue! 
We've Come a Long Way, Baby
Bruce Williamson could never have imagined the ways in which his initial design would evolve three-quarters of a century later. While the basic concept is obviously similar, the features and materials being used in the premium carts today truly make them state-of-the-art marvels.
Which brings me back to the subject of this article, the Qwik-Fold 360. Having tested this and many other similar products, I can tell you that there is no other cart on the market today that can boast all of the advanced features, design creativity and conveniences that are built into the Qwik-Fold 360.
So let's take a little more detailed look at this impressive push cart.
Extremely Fast Fold / Unfold
Probably the best place to start in describing the Qwik-Fold 360 feature set is to consider how it got its name. It's called "Qwik-Fold" for a reason. Without a doubt, this cart has by far the easiest and fastest mechanism for unfolding and folding the cart of any product on the market. It can be fully collapsed down to a size that fits easily into the trunk of your car, or fully unfolded to its full, elongated size in about 1-2 seconds! 
Having struggled to collapse and expand other cart models, sometimes feeling that I was solving Rubik's Cube to figure out the procedure, I continue to be amazed at the design ingenuity that they've engineered into the Qwik-Fold 360.  It makes setting the cart up and breaking it down an almost instantaneous process. To open it up, all you need to do is to pull up on the handle and it immediately clicks into place. The audible click tells you that the cart is ready for use. To fold it down, you simply push the designated button and the cart compresses to its smaller size.
State-of-the-Art Materials
When you're pushing a cart around for 5-6 miles during your round, and routinely lifting it in and out of your car, it definitely helps when that cart is made of lightweight material. At the same time, though, you also want that product to be durable and to be able to withstand the punishment that it regularly endures. 
The manufacturers of the Qwik-Fold 360 have responded to both of these concerns by utilizing lightweight, aircraft-grade aluminum for the frame of the cart. You'll appreciate how light and manageable it is as you maneuver around the course, and you'll especially appreciate how transportable it is when it comes time to lift it from your trunk. This is a material that's also built to last, so you can count on it remaining in good condition for many years. 
Patented Foot Brake System
The system that most general push carts employ makes use of a hand brake mechanism, similar to ones you might find on a standard bicycle. In these systems, the hand brake has a titanium or aluminum wiring that extends down the frame to the tires, where it uses a "clamp" feature to halt movement. 
But there's a better way. The makers of the Qwik-Fold 360 have created and patented a unique foot brake system, a simple-to-use mechanism in which you simply depress a small foot pedal that is affixed to the wheel. Step on the pedal once to set the brake, then step on it again to release it.  
360° Rotating Front Wheel
One of the most interesting and unique features of the Qwik-Fold 360 push cart is a full 360° rotating front wheel.  As you can imagine, that makes this cart extremely maneuverable, with a turning radius that is far superior to other fixed-wheel models.
But for those times when you may want to fix the wheel in a straightforward orientation, you have the option to do so. To lock the wheel in a fixed position, all you need to do is engage the lever that is located under the scorecard holder.  Then, to restore the wheel to its fully rotating setup, simply release that lever. 
 Other Features:
Ball bearing wheels give the Qwik-Fold 360 an extremely smooth ride, regardless of the type of terrain you're on.

Fully functional "console,"

with a place to hold your scorecard, as well as a compartment for storage of tees, your rangefinder, or any other items you need to have on hand.
Upper and lower fully adjustable straps to keep your bag secure and positioned properly.

Built-in umbrella holder

, so that you're always prepared for inclement weather.
Conclusion
I've been a golf push cart user for a long time, having decided many years ago that I wanted to always get the health and performance benefits of walking the course. As a result, I've become a bit of a connoisseur when it comes to push cart features and what makes one cart better than another. I've owned many different models and I have used dozens of others.
I can say without reservation that the Qwik-Fold 360 is one of the best designed and best built push carts that I have ever used. The designers of this push cart clearly had the golfer in mind, with all of the high-end features, materials and conveniences that they incorporated into it.
This reasonably priced push cart truly offers premium performance and, if you are in the market for one, I'd highly encourage you to give the Qwik-Fold 360 some serious consideration.
Visit the Product Page for more info.
---