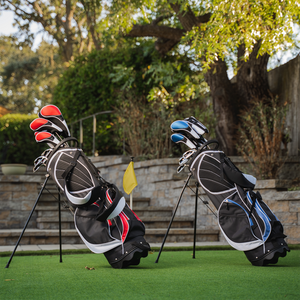 Precise S7 Mens 18-Piece Complete Golf Club Set Review
By GBB Staff
Introduction
If you're a beginner or intermediate golfer who is trying to improve, there are several features that you should be looking for in any new set of golf clubs. Those features include things like a cavity back design with perimeter weighting which makes the clubs more forgiving when you miss the sweet spot, a low center of gravity that makes it easier to get the ball up into the air, a wider sole that makes it less likely that you'll hit a fat shot, etc.
In short, these types of features make the game a little easier for those who can use the help which, in turn, makes the game a lot more fun. Clubs that fit this profile are in a category of clubs that are referred to as "Game Improvement."
The Precise S7 Men's Complete Set falls into this category of golf clubs: they were designed to make golf more fun for mid-to-high handicap golfers by helping you to play better.
Recently I spent some time putting the S7 Set through its paces to see how they performed, to assess their build quality, and to compare them to other clubs in this category. To say the least, I was very pleasantly surprised.
Set Composition
One of the best things about this set is that it comes complete with everything you'll need. There's no need to shop separately for a set of woods, then a set of irons, then for each of the wedges and a putter, not to mention a golf bag. That could take weeks to do and could turn into a pretty costly proposition.
The S7 comes pre-packaged with all of those components. This is a perfect example of the term "one stop shopping!"
Here's what's included in the set: 
Driver (10.5°)
3-Wood (15°)
5-Wood (18°)
Hybrid (24°)
(6) Irons (5-iron through Pitching Wedge)
Sand Wedge
Blade-Style Putter
Golf Stand Bag with rain hood included
(4) Head Covers
Quality Build
The first thing that struck me about these clubs was the quality of the construction. They have the look and feel of high-end golf clubs, and yet this set is extremely wallet-friendly compared to other comparable Game Improvement clubs.
I've had experience hitting some of the other competitive golf club sets whose primary selling point was their inexpensive price. But as soon as I had hit a few shots with them, it became apparent that they had achieved that price point due to the use of lesser-quality materials. That's definitely not the case with the S7 clubs.
Using the latest premium materials, such as titanium in the driver and high-grade stainless steel in the irons, combined with sophisticated manufacturing processes, these clubs have a very solid feeling throughout the set.
Two Sizes Available: Standard and Tall
Here's something I was surprised to learn: the S7 is available in two lengths, either the "Standard" version or an optional "Tall" version. Players up to 6'1" can opt for the Standard version, while players over 6'1" can choose the "Tall" version.
I can tell you this: this kind of option is very rare in complete set offerings and, just by itself, sets this product apart from its competitors! Players that are taller than 6"1" no longer have to adjust their posture to accommodate clubs that were designed for shorter golfers.
The extra inch that is added on the "Tall" option allows taller players to assume a natural address position, rather than bending over excessively at the waist.  Naturally, when you have club lengths that are compatible with your height, you're able to make a more natural, and effective, golf swing.
Component Overview
Driver
As mentioned, the Driver included in the set has 10.5° loft and a volume of 460cc (the largest size permitted by the Rules of Golf). Precise Golf elected to use 6/4 titanium in the club head because of its weight-to-strength ratio.  Titanium is a very strong and durable material, but it also has the benefit of being relatively light. Consequently, they could design this driver head to meet the maximum allowable size limit.
Because of this larger head design, and the strategic positioning of the Center-of-Gravity (CG) low and deep in the head, this driver has a sweet spot that is effectively larger than on many other drivers. What does that mean for you?  It means that this driver is extremely "forgiving" so that, when you make ball contact just a bit out toward the toe or in toward the heel, the club still performs almost as well as it would have if you had made center-face contact.
The deep CG also means that getting the ball up in the air on a higher trajectory is much easier.
Fairway Woods
The stainless steel 3-Wood and 5-Wood are also very forgiving. I found that they are effective from all different kinds of lies and they produced a high ball flight that I really liked.
Hybrid
It's not uncommon for higher-handicap players to struggle a bit with long irons.  They can be harder to hit properly and harder to launch on a high trajectory. So, it was smart of Precise to substitute a 4-hybrid in place of the 4-iron. Hybrids are much easier to hit and they tend to flight the ball much higher than a long iron would. 
The 4-Hybrid included in this set has 24° of loft and is made of stainless steel.
Irons
High-quality stainless steel was also used in the manufacture of the irons. And they were designed with all of the Game Improvement features that were mentioned previously. They use a cavity-back, perimeter weighted design which makes them much more forgiving for you. As a result, your shots that are slightly mishit won't be punished quite as severely as they would be had this design feature not been implemented.
They are also designed to help you get the ball up into the air more easily. The low Center of Gravity, and the wide sole, give you the ability to get a higher ball flight...which also translates to greater distance.
Sand Wedge
Not all complete sets include a Sand Wedge. I was really pleased when I saw that the S7 Set does. It's obviously important that you have a sand wedge when you find yourself in a greenside bunker, but it's also a great club to use for all kinds of pitch and chip shots around the green. The inclusion of the Sand Wedge is a nice bonus.
Putter
The blade-style putter that comes in the set is very nice, for a couple reasons.  First, it has a really nice overall balance, meaning that the weight of the putter head is in sync with the weight of both the grip and the shaft. A nice distribution of the weight in this manner contributes to making a smoother stroke and generating a better roll.
Another feature that all golfers appreciate, regardless of their handicap level, are well-defined alignment markings. The biggest issue that most players have in their putting is getting the putter faced lined up to their intended target. Being mis-aligned by just a degree or two can mean the difference between making a putt and missing it. This putter has a great alignment indicator that makes aiming a lot easier.
Other Components
Completing the set is a really nice, deluxe stand golf bag with multiple pockets for storage, which comes complete with a matching rain hood to keep your clubs dry in inclement weather. And, finally, the set includes four matching headcovers to protect the woods and the hybrid. 
Conclusion
After spending some time with this this set, I concluded that the S7 may be an ideal product for players who are looking for a Game Improvement complete set. It includes all the clubs you'd need to head right out to the golf course, and they have all of the features that will make higher handicappers play better and have more fun.
Lastly, did I mention the price? If you were to assemble this kind of a set yourself, shopping for and buying individual components from one of the big-name manufacturers, you'd could easily spend 4 to 5 times the price of the S7!  When you take into account the quality of this set, the dual-length options, and the fact that everything is included, and then you factor in the very attractive price point, this set represents an unbeatable opportunity for mid-to-high handicap players to get an exceptional set without breaking the bank.
Visit the S7 Product Page for more info.
---