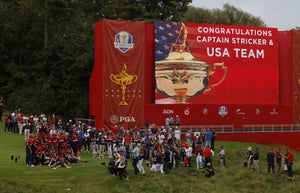 Our Favorite Golf Moments of 2021
By GBB Staff
Introduction
Time to put away our shorts and break out our golf slacks. Golfers can stop worrying about the heat and must start being concerned with frost delays. Will you need the hand-warmers and a stocking cap for your next round?
The weather is changing, and another golf season is coming to an end. Before we switch our focus to 2022, lets pause for a moment and reflect on the best highlights from this year.
What sticks in your mind about the 2021 golf season? It was an awesome year to be a golf fan. Here are our favorite moments:
Phil Turns Back the Clock at the PGA Championship
As the best players in the world travelled to South Carolina in May did anyone think Phil Mickelson had a chance to win his 6th major championship? He would never admit it, but we doubt Phil thought he could compete at Kiawah Island's Ocean Course.
He wasn't exactly in great form. Phil had not a won a tournament on the PGA tour in 2+ years and was struggling to make cuts more than competing for trophies. Most of the golf world figured his next major might come in a senior event, but definitely not against the "young guys".
But this is what makes Phil such a fan favorite. You just never know what he is going to do and for a week in May, he turned back the clock. Played 4 solid rounds of golf on a difficult golf course and held off the likes of Brooks Koepka and Louis Oosthuizen to bring the trophy home. Amazing!

The United States Flips the Script in the Ryder Cup
The lead up to the Ryder Cup felt the same. On paper, the US team was much stronger than the Europeans, but could they play as a team? Brooks doesn't like Bryson. Dustin Johnson doesn't seem to care. Why would this competition be any different from recent results?
In hindsight, it appears obvious. The US team was different this time. Captain Steve Stricker went for youth. He wanted players that may not have experience but have swagger and confidence. This gamble (if you want to call it a gamble) paid off.
The US team crushed the European squad. It was never really a contest. In the end, Dustin went undefeated, and Rory gave a heartbreaking interview (really cool – if you haven't seen it, check it out). It continues to be amazing how much professional golfers care about an event that has zero prize money.
Did the US team get lucky, or have they found a better approach for these team matches? We will have to wait and see.

A Star Is Born on the LPGA Tour: Nelly Korda
We can probably all agree. The LPGA tour and women's sports in general do not get enough attention. They don't make the same money or get the same TV coverage. Nelly Korda had arguably the best run of golf this year during the summer.
On June 20th she won the Meijer LPGA Classic – this was her second tour win of the season, and she was just getting started. The very next week Nelly went out and won the Women's PGA Championship to claim her first major title. This victory catapulted her to the #1 in the world golf rankings.
She wasn't done. In August she claimed the Olympic gold medal highlighted by a "59 watch" during her second round. Nelly was the first American to win gold since the 1900 Olympics. Not a bad summer at all.

Bryson Enters a Long Drive Competition
Love him or hate him, you can't say Bryson is boring and he had another eventful year in 2021. He continues to be infatuated with speed and distance. Bryson ruffled some feathers on the Ryder Cup team when he signed up to compete in a long drive competition the very next week.
It may have sounded like a bad idea, but it all worked out great. First, the US brought home the Ryder Cup and Bryson played well. Second, he won over a bunch of fans based on his performance in the Professional Long Drivers Association World Championships.
Could he compete with guys that specialize in this competition? Ultimately, he finished in 7th place, hitting several drives over 400 yards. Aren't impressed? Well, the #1 ranked long drive competitor in the world, Kyle Berkshire, was amazed. Kyle said "I'm so proud of Bryson. He came out here and put himself in a position where not a lot of people thought he would do well … he held his own against the absolute best and made the final eight in his first try…".

Hideki Makes History at Augusta
How does it always happen at the Masters? What is about Augusta National? Great moments seem to be created every time the PGA tour visits. It is truly a magical place.
The 2021 Masters Tournament was no exception. Hideki Matsuyama finished the event at -10 for a one-shot victory over Will Zalatoris. In doing so, he became the first Japanese and first Asian golfer to ever win this prestigious event.
We don't know what the 2022 Masters tournament will bring, but we know it will be special. Our guess – somehow Augusta National will make our "top moments list" next year.

Did We Get the Top Moments Correct? Do You Have Top Moments of Your Own?
What about your personal golf game? Did you have any notable achievements during the 2021 golf season? Maybe you shot a new career low or made your first hole-in-one? Maybe you reduced your handicap by 5 strokes or finally broke 100, broke 90, broke 80, or broke par?
Now is the perfect time to look back on your 2021 golf season. Did you play as much golf as you planned? Did you get better or worse?

What Should We Expect in 2022?
It can be fun to speculate. We suspect something magical could happen when the Open Championship returns to St. Andrews in July of 2022.
Will we see the return of the "GOAT" in 2022? Based on recent news, Tiger still has a long way to go before he can play golf again, but just seeing him on the course one more time would be amazing. You don't have to be a diehard Woods fan to hope he is able to return next year.
Photo by REUTERS / MIKE SEGAR - stock.adobe.com
---