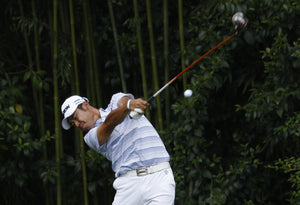 Hideki Matsuyama's Historic Masters Win
By GBB Staff
Introduction
Wow, it feels great to be back. Back at Augusta National and back in April. The blooming azaleas are back. Smaller numbers, but the patrons are back. The Masters never disappoints and entering the 2021 event there were plenty of intriguing storylines.
Rory has admitted that his swing has been impacted by trying to hit it as far as Bryson and has switched swing coaches. Can he make a run at the green jacket and his career grand slam? No, unfortunately he missed the cut.
Speaking of Bryson, can the Incredible Bulk smash Augusta National? No, he played well in round two, but never really contended. If you haven't seen it, the video of him on the driving range with Vijay Singh laughing is great!
What about DJ – can he win two green jackets in less than 6 months? No, he missed the cut.
Jon Rahm just had his first child – that helped Danny Willet a few years ago, could it lead Rahm to victory? Sadly, Rahm will have to wait for his green jacket – he played great on Sunday to finish tied for 5th.
Suddenly, Jordan Spieth is back, and his buddy JT won the Players Championship. Both hung around, but Spieth ended tied for 3rd and JT in 21st.
Brooks Koepka is playing even though he can barely bend over to get the ball out of the hole. Brooks was not physically ready to play and missed the cut.
The Masters is just different – even with so many storylines before the tournament started, we always get surprised once it plays out.
Ultimately, it was Hideki Matsuyama who pulled-off the win with his masterful performance at Augusta National (more on that below).
Day One Surprises
The leaderboard on day 1 of the Masters is always full of surprises – Charley Hoffman (not in the field this year) is famous for leading after 18 holes. 2021 was no exception.
Justin Rose has been struggling lately but came out with a 65 (-7) to beat everyone by 4 strokes! He did hang around for most of the tournament and finished in 7th place.
Brian Harman was the ultimate Cinderella story. He wasn't even in the field until an epic comeback against Bubba Watson in the WGC-Match in March moved him inside the top 50 in the world rankings. Harman is one of the shortest players on the tour but opened with a 69 (-3) and finished the tournament tied for 12th.
The

final surprise this year was Bryson DeChambeau struggling in round one and posting a 76 (+4)

. He has talked about overpowering Augusta National, but he may need a new plan after his performances in the 2020 and the 2021 Masters.
Hideki's Historic Win
Ten years after he won low amateur at Augusta, Hideki Matsuyama became the first Japanese player to claim a green jacket. He used a post-weather delay run on his last 8 holes on Saturday to build a convincing lead.
On Sunday, it looked like he might run away from the field, building a 6-stroke lead early in the back nine, but Augusta always seems to find a way to trip up the leader. Hideki struggled on 12-15 and Xander Schauffele birdied all 4. Standing on the 16th tee, Xander was only two back and appeared to have momentum on his side.
Then, Xander ran out of steam and made a bad swing, finding the lake on the par 3. After taking a drop, he hit another bad wedge shot and ended up taking a triple bogey 6. This gave Hideki the cushion he needed to complete the win.
What Do You Know About Will Zalatoris?
If you are a hardcore professional golf afficionado, you have probably heard of Will, but the casual golf fan was most likely introduced to him for the first time this week. Yes, he does look like Happy Gilmore's original caddy in the Waterbury Open. He also might remind you a bit of Owen Wilson.
You would be smart to pay attention to his golf game. He played collegiately at Wake Forest and you will be hard-pressed to find a better ball-striker. Will's putting can be streaky, but he is definitely a player on the rise. A couple interesting facts:
He doesn't currently have full-time status on the PGA tour, but has played so well that he keeps earning starts and making money.
At the start of 2019, he was ranked 2,006 in the Official World Golf Rankings. By February, he climbed inside the top 50 and earned an invite to Augusta. An amazing move up the OWGR.
Keep an eye on Zalatoris – at only 24 years old, he is going to be around for a long time. We expect him to start collecting trophies (and maybe jackets) soon.

Did You Miss Tiger?
Was it weird not having Tiger at the Masters? It isn't the first time he has missed the event; he was unable to play in 2014, 2016, and 2017, but something about this year felt different. Will he ever be able to tee it up at Augusta again?
Yes, we have seen him overcome knee and back injuries and even the chipping yips, but nothing like what happened to him in February. We don't know all the medical details, but what has been released publicly sounds scary. Before we worry about him competing again, lets hope he can walk well enough to enjoy the rest of this life and maybe caddy for his son Charlie.
Tiger Woods is a legend, and it is hard to give up on our heroes. If nothing else, let's hope he attends next April and enjoys the Champions dinner.

The Masters Never Fails to Deliver
Once again, congrats to Hideki – he is a worthy champion and will certainly contend again in the future. It feels a little crazy to say, but we can't wait for the 2022 Masters. Who will surprise us next year? Who will come in as the favorite? Does Tiger claw his way back? Does Phil have one more run in him? Will the Incredible Bulk finally smash at Augusta? We will find out next April!
Photo by REUTERS / MIKE SEGAR - stock.adobe.com
---