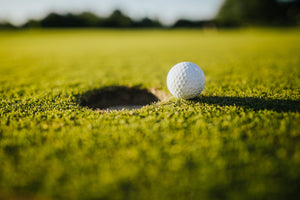 Golf is Not About Perfection
By GBB Staff
Introduction
Golf will humble you. Golf will frustrate you. Maybe you can hit a few perfect shots, but you will never be able play a perfect round. You can always find a stroke or two that you could have saved or identify a bad break that hurt your score. PGA Tour pro Stewart Cink famously said "Golf is so difficult to master. It feels like the better you get, the farther away you are from perfection".
Regardless if you are just getting started with golf, if you are an 18-handicap trying to improve, or a scratch golfer competing in amateur events across the country, perfection should never be your goal. If you strive for perfect, you will always leave the course frustrated and disappointed. The game of golf is a great way to relax, get some exercise, and enjoy time with friends. These should be your primary goals when you head out to play 18.
Be Realistic – Celebrate Your Achievements
Now that we can agree that perfection is not your target, how do you get better?
The first step is to be realistic about your game. How often do you play and how much time do you commit to practice? You cannot expect to dust off your clubs every couple months and improve.
Identify some reasonable goals for your game and they should all be based on your score. Of course, it is awesome when you shoot your lowest 9-hole or 18-hole score, but that will not happen very often. Look for other achievements in your game. Play an entire round without a 3-putt. Make your first birdie or eagle. Complete your first 18-holes without losing a golf ball. Compete in your first tournament. All of these achievements are worth celebrating. If your only goal is to shoot your career record score, you will leave the course disappointed 99% of the time.
Spend a few moments following your rounds to identify potential achievements and focus on those. The more often you can leave the course in a good mood, the more often you will play, and the faster you will improve.
Track Your Game
If you want to improve and shoot lower scores, it is critical that you track your rounds.
First, establish a golf handicap at your local club and post all of your scores. This creates an easy way for you to monitor the progress of your game. If you want, set a goal related to your handicap. See if you can decrease it by 1 stroke over the next 6 months.
Second, start tracking some key golf metrics as you play. At minimum capture # of fairways hit, # of greens hit in regulation, and # of putts. This will help you identify the areas of your game that are hurting your scorecard. If you are 3-putting or 4-putting during your round, spend some extra practice time on your short game. If the driver is killing you, work on that at the driving range or even consider using a 3-wood off the tee on tighter holes.
The more you know about your game, the easier it is to see improvement. You are not trying to be perfect, just trying to get a little better each time you visit the course.
Learn to Play Your Mis-Hits
Shooting low scores on the course do not happen because the golfer hits every shot perfect. Most amateur players might hit 1 or 2 perfect shots all day. The key to playing good golf is being able to control and "get away with" your mis-hits.
When you hit a shot off-center where does it go? Another way to ask this question – when you hit a bad shot, how bad is it? The answer to this question is what truly separates elite players from struggling beginners. Here is an example.
Player A knows that if he mis-hits his driver it will go a little right and might end up in the rough, but still playable. Player B isn't sure where his mishit might go and typically it goes out of bounds or is a lost ball.
During the same round of golf, Player A only hits 2 drives well, but the other 12 are in the right rough and he can play the hole, while Player B hits 10 drives well, but hits 4 out of play.
Who wins this match? Player A smokes Player B. Player B cannot overcome the impact of those 4 drives out of play.
Learning to control your bad shots is the best way to improve.
Enjoy the Ride
You probably are not going to join the PGA or Champions Tour. Your golf game will most likely never support your family. So why do we take is so seriously? We have all seen it. An amateur golfer getting upset, throwing clubs, storming off to the parking lot, and driving home angry because the little white ball would not go in the hole.
There is no doubt that golf can drive you crazy. If you focus too much on your score, you will often leave frustrated and disappointed. Isn't golf supposed to be fun? Relaxing? It is not always easy but try to enjoy the journey. Enjoy the beautiful afternoon in the sun. Enjoy hanging out with and maybe trash-talking your friends. Enjoy the laughs. Enjoy the cold beverage in the 19th hole.
Final Thoughts
You will never shoot a perfect score. Golf will make you want to break every club in your bag. There will be highs and lows. You will swear you are never going to play again, only to find yourself at the driving range later that evening. You will shoot your lowest score ever and the next time you play, feel like you have never held a club before.
Golf does not allow you to be perfect, but it can definitely be the perfect way to spend an afternoon.
---