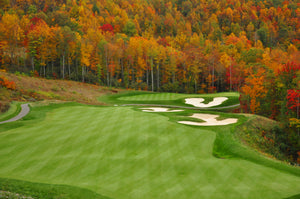 Fall is the Best Time to Play Golf
By GBB Staff
Introduction
The frozen greens and frost delays of winter – no thanks. You can keep the scorching sun and humidity of summer afternoons. Dormant grass and bumpy greens of spring – don't love it. Fall is our favorite season for golf, and it has nothing to do with pumpkin spice lattes.
Why do we love golf in the fall? We will explore the obvious reasons below, but there is something about the end of the golf season. Fall feels like your last chance for glory. Could this be the year you finally make a hole-in-one or break 100, 90, 80, or par for the first time?
For most golfers, the season starts in March or April, with the excitement of the Masters getting us motivated to hit the course. We work on our game throughout the summer and start to put some things together, but we peak in the fall. Our swing feels good and putts start to drop. Make a tee time, head to the course, and enjoy the best time to play.

You Cannot Beat Fall Weather
A slight chill in the air when you arrive at the course. Morning dew on the practice green as you roll your first putts. As you make the turn, the temperature has increased, and you can now comfortably take off your pullover and enjoy the sun. During the fall, it is not uncommon to walk 18 holes and never break a sweat. Perfect conditions for you to enjoy your day.
In order to get the most of your fall golf experience, you do need to prepare a little differently.
First,

you will most likely need layers

. A tight "climate gear" shirt is perfect to wear under your golf shirt or you can simply wear a light jacket that still allows you to swing smoothly. Our favorite fall golf outfit is shorts with a pullover you can take off at the turn as the sun warms up.
Second,

grab a pack of handwarmers

. Simply open one and place it in your pocket. In a few minutes it will warm up and now you have a quick way to get your hands ready for each shot. In the fall, you typically only need the handwarmer at the driving range pre-round and for a few holes on the course, but it's nice to keep your fingers toasty.
Course Conditions are Perfect
The absolute best thing about fall golf is the conditions of the golf course. Do you want to experience fast, smooth greens? Superintendents must protect the putting surfaces during the heat of the summer, so most simply leave them a little longer and keep them wet. This does ensure the greens survive, but it also means you spend these months putting on greens that roll like your shag carpet. The fall temperatures set the greenskeeper free. They can cut them lower, roll them, and let them stay a bit dryer. Great news for the golfer. You can pretend you are playing on the PGA Tour as you putt the beautiful fall greens.
It is not just the greens that peak in the fall. The grass in the fairway and rough has had all season to mature and fill out. You can expect perfect fairways at most courses. Yes, the rough may be a little longer and tougher to play from, but you will enjoy playing the course as it was designed to be played.
We haven't even discussed the fall foliage yet. As the nights start to get colder, the leaves will start to change colors. Is there anything more beautiful than a well-manicured golf course with the leaves changing? That tree-lined fairway with orange, yellow, and red popping everywhere you look?
Do you need to change how your play due to these course conditions? We would recommend you consider a couple things.
First, due to the cooler temperatures and softer fairways we would recommend you

use a ball that gives you a little more distance

. For example, if you play the Pro V1 during the summer, maybe switch to a Tour Soft in the fall.
Second, you and your golfing buddies might want to

consider instituting a "leaf rule"

. Basically, if everyone saw your drive going down the fairway, but you can't find it due to leaves that have fallen – grant that person free relief and drop ball where you think it ended up with no penalty.
Fall Golf Warnings – Be Aware
While fall golf is our favorite time to play, there are couple things you need to monitor to ensure you have the best possible experience.
Most courses will aerate their greens in the fall. In other words, they will plug the greens and top dress them with sand. Recently aerated greens are no fun. When making tee times during the fall,

always ask the course when they last aerated

. If it was within three weeks, you might want to find a different course.
We talked above about how much we love fall weather, but you do need to pay attention to the forecast. During the fall, you need to look at the hourly forecast to determine what clothes to wear.

Pay special attention to the wind

. This time of year can produce a chilly breeze and you want to have the clothes you need to stay comfortable. Getting cold on the course can ruin an otherwise perfect day.
Conclusion
You will love the fall golf experience. Call your local course and make a tee time. Text some of your golfing buddies and get a match pulled together. Check the forecast and dress in layers.
If you must, grab a pumpkin spice latte on the way to the course. Rip your driver down the beautiful, mature fairways. Roll some putts in on perfect greens. Enjoy everything fall golf has to offer. Get in as many rounds as possible because winter is coming!
---