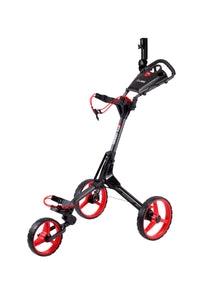 CUBE CART 3 Wheel Push Pull Golf Cart Review
By GBB Staff
Introduction
I've always preferred to walk the course during my rounds. I like the idea of getting as much exercise as possible while playing, and I've found that a stroll of about 5-6 miles with a push cart is one of the best way to maximize my health benefits; in fact, in a comprehensive 9-hole study by Dr. Neil Wolkodoff of the Colorado Center of Health and Sports Science, it was shown (among many other things) that golfers who used a push cart burned 718 calories during their round.
So Which Push Cart Did I Decide On?
There are so many of them on the market and it's hard to differentiate between them without some significant comparison analysis. So, I spent a long time researching all the options and comparing and contrasting their features and benefits, and testing as many as I could.
I did this to arrive at the most informed decision that I could make for myself, but also to give our readers the benefit of my research.
After all of my analysis and testing, the one that I chose is the CUBE 3-Wheel Push Cart. I've had the CUBE cart for a while now, and I'm convinced that I made the right choice. I'll spend a little time describing why the CUBE rose to the top of the list for me.
The CUBE 3-Wheel Push Cart
When I evaluate push carts, there's several important criteria that I assess:
The cart has to be

easy to set up

and to fold down
When fully folded down, I want it to be

very compact

I want the cart to have

lots of storage

compartments and accessories
The push cart should be

easy to maneuver

on the golf course
It should be made with

high-quality materials

that will make the cart

lightweight but very durable

.
In short, the CUBE cart met all of these criteria in spades:

1. Easy Set-Up and Fold-Down
It's been said that the CUBE Push Cart is the fastest 2-step folded golf cart in the world. When I pull the cart from my car trunk or when I'm ready to put the cart back into the trunk for transport, the last thing I want is to be faced with a complex, time-consuming process to set it up or break it down.
Setting the CUBE up is a piece of cake: Pull the locking lever upwards to release the folding lock, and then use the locking lever to pull the frame upwards until it's fully extended.
Folding it down is just as easy: Release the locking lever and lower the handle. Push the upper bag support down towards the front wheel and resecure the locking lever.
It's that easy and that fast.
2. Compact Size When Folded Down
This was one of the more impressive features. I believe it's very important for a top-level push cart to be extremely portable. My car trunk is not very big, and yet the folded-down CUBE Push Cart fits into it with ease. Its dimensions when fully folded is an amazing 21"(l) x 13" (w) x 17" (h). That may be hard for you to visualize, but I can tell you that it's smaller than the ottoman that I rest my feet on when I watch TV.
3. Ample Storage Space and Accessories
This is another area that gets high grades. Not only does the CUBE have the standard storage space for your scorecard and a drink, but it also has a full accessory compartment where you can place items like your keys, your wallet, a rangefinder, etc.
That compartment will also hold a few extra golf balls and your tees, too. There's no need to dig around through your bag to locate the things you need. They're all easily accessible right in front of you.
4. On Course Performance
How the CUBE operates on the course is really what separates it from its competitors. The makers of the CUBE made several smart decisions about the design of the unit that have resulted in its signature smooth handling and easy-to-maneuver operation.
Take the easy-run, friction-free, oversize wheels that allows the CUBE to seem as if it's gliding across the ground. These wheels also have high quality rubber tires that are maintenance-free.
Have you ever struggled with push carts that feature a hand-operated brake system? I know I have. Those hand systems never seem to last and require lots of maintenance. The CUBE uses a smarter-designed braking system that operates by stepping on a small peddle. It's extremely easy to use and very reliable, and will no doubt outlast those hand-operated systems.
Even the cart's handle reflects the focus on detail that the CUBE designers had. The handle has an ergonomic design that was made for both efficiency and comfort, and to appeal to the varying sizes or preferences of its users. It has an adjustable height control that offers you 3 different setting options.
5. High Quality and Durable
One look at the CUBE push cart and you can see that the workmanship and quality of construction is very high. They used lightweight aluminum design, which make this cart very easy to lift and handle when you're transporting it, but also very easy to push around the golf course.
Aluminum, in addition to being light, is also very strong, so you can be assured that this cart will be an investment that you'll be able to count on for many years.
Final Thoughts
More and more golfers will be making the decision to start using a push cart instead of carrying their bag or riding in a motorized golf cart.
When it comes time for you to make that decision, I'd encourage you to consider the CUBE 3-Wheel Push Cart. It's a high-quality, light, compact and extremely functional solution that is jam-packed with features.
It will make your walk around the golf course much more enjoyable.
Visit the CUBE Product Page for more info.
---
2 comments