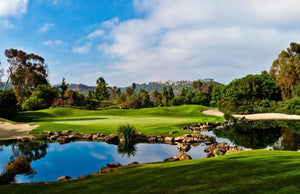 Aviara Golf Club Course Review (Carlsbad, CA)
By GBB Staff
Introduction
Arnold Palmer's only course design in San Diego, Aviara winds its way through the valleys overlooking the Batiquitos Lagoon and when the flowers that grace its terrain are in full bloom, it can be a riot of color.
Not everyone's enthused by that. Some golf course purists seem to think that too many blooms detract from the toil and sweat of athletic endeavor. And don't get them started on waterfalls…
The answer to that is simple: this is California, folks. There will be prettiness; it will be vivid. Does that stop Aviara from being a fun round? Absolutely not.
This place is good enough to host the LPGA each March, and it's a wonderful experience for any golfer. Its fairways are generous and its greens are large (there's a story behind that; read on) but if you miss either, the rough won't relinquish your ball easily. It might not be a place for hotshots seeking an acid test of their game, maybe, but it's great sport for the rest of us.
The good
There isn't a par 3 out there (hole guide here) that won't delight you one way or the other, often with a combination of ponds and petals (trigger warning: some waterfalls). The 3rd made Jeff Barr's 1001 Golf Holes You Must Play Before You Die but the 6th also deserves a mention. Your tee shot is uphill to the course's highest point and a green that spurns all defenses save for a solitary bunker well short of the putting surface, relying instead on its marginal slopes to repel wayward tee shots.
Aviara has nicely-sculptured fairways. One golfer who played there said he found the fairway contouring even better than that on the greens.
The par-5 5th is a good risk-and-reward hole. Go for the green with your second if you wish but the narrowing fairway and huge trap front-right of the putting surface may make you wish you hadn't.
The par-4 7th. Great views of the neighborhood from the tee and an inviting drive into a shallow canyon before a challenging approach to a shallow, well-trapped green.
Housing: not usually a plus point on any golfer's checklist but while the course was clearly built with houses in mind, they are for the most part in elevated positions and intrude on your consciousness far less than you'll find on many other courses of this nature.
The considerations
'Coastal layout': this term crops up frequently but don't get your hopes up too much. While you certainly get glimpses of the lagoon and the Pacific from various points on the course, the ocean proper is nearly two miles away as the crow flies. If this is coastal golf, Pebble Beach is Atlantis.
Just now and again, bunkers appear in strange places, nowhere more so than at the entrance to the 8th hole. To have a bunker immediately behind a pond once on a hole feels like overkill; to have it twice on the same hole is borderline paranoia. It won't ruin your round, nor one of the most challenging approach shots on the course, but it is a bit odd.
Aviara is currently re-grassing its rough with Bermuda grass, entailing the closure of two holes in three-week increments. Expect temporary greens and shortening of holes (as of Aug'22). 
The quirky
Aviara's greens – some of the biggest in Southern California – came about by accident. Half of them were in place during construction before someone realized they were twice their intended size. The decision was taken to correspondingly enlarge those greens still to be installed. Strangely, this can help defend the course: some players swing away feeling they can't miss and only after several putts of 25 yards-plus do they realize that 'greens-in-regulation' doesn't mean as much here as it does elsewhere.
Brace yourself for a culture shock if you're on an evening ticket and they turn the water features off. After so many hours of background noise, the silence can be quite eerie, apparently.
A nice nod to Scottish links in SoCal – 12 and 15 share a double green.
Memorable hole
The par-4 18th. Resort course or not, any course should at least press you right to the end and Aviara does, with a sharp left-right dogleg that calls for your tee shot to bisect the space between bunkers and the lake around which the hole curls. Your approach to a long green is dogged by water all down the right.
While you're here…
Try San Vicente Golf Resort, of which good things are being said. Pretty in a less ostentatious way, this revamped Ted Robinson design is about an hour's drive east of Aviara, into San Diego's backcountry. You'll find the layout here.
Aviara fact facts
Address: 7447 Batiquitos Drive, Carlsbad CA 92011
Opened: 1991
From back tees: 7,007 yards, par 72, rating 74.7, slope 141
From front tees: 5,007 yards, par 72, rating 69.3, slope 126 
Website: parkhyattaviara.com/golf/
---