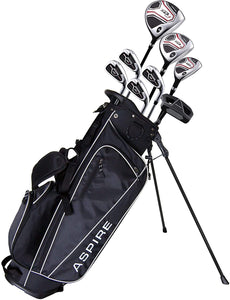 Aspire XD1 Teen 12-Piece Golf Club Set Review
By GBB Staff
Introduction
More and more teenagers are taking an interest in golf lately. In fact, the National Golf Foundation has research that shows that the number of junior golfers grew by as much as 20% last year. That could be great news for the future of the golf industry, as long as these budding golfers maintain their interest in the game as they grow older. 
There's a number of factors that will determine if these teens continue on in golf, of course, but one very important one is how much enjoyment they get out of it.  Let's face it. Kids are kids, and if the game isn't fun, they're going to find other activities that are.  
And the fact of the matter is that golf will not be fun for teens if they have equipment that prevents them from performing reasonably well. If teens have limited success playing because they are handicapped by ill-fitted clubs, it's almost guaranteed that they'll eventually give up the game. It's no fun to consistently play poorly.
So how can we, as their parents, give them the best opportunity to find enjoyment in golf? To give them the best opportunity to play well? One of the key ways is to get them golf clubs that are designed specifically for their age group. And that means clubs that have the right length, the right weight, and the right shaft flex. And, importantly for you, the right price.
If your teen is in the 13-16 year old age group, the Aspire XD1 Teen Package Set is an ideal solution that ticks all of these boxes. Let's take a closer look at why this set is the perfect way to get your teen off to a great start in golf. 
The Aspire XD1 Teen Package Set
To begin with, the Aspire XD1 is a complete, inclusive set that comes pre-packaged with everything that your young golfer will need. The full complement of clubs, from driver to putter, comes included in the set. Parents who've purchased clubs for themselves before, researching and shopping for each component, know just how time-consuming (and potentially costly) a process like this can be.  
Stores like Golf Galaxy, Dick's Sporting Goods, and the other golf retailers don't usually have much of a selection when it comes to teen golf clubs (if they have any at all), so your task becomes that much harder as you hunt for appropriate "teen-sized" clubs.
The makers of the Aspire XD1 Set have studied the needs of younger golfers and have pre-assembled all of the right components...so that you won't have to. 
The XD1 Teen Set is a 12-piece package that includes the following items:
| | |
| --- | --- |
| Aspire XD1 Teen Package Set |   |
| Driver | 460cc, Ti-Alloy, graphite shaft |
| Fairway Wood | 3-Wood |
| Hybrid | 21° 3-Hybrid |
| Irons | 7-iron thru Pitching Wedge |
| Putter | Mallet Putter |
| Accessories | Stand bag, bag rain cover, (3) headcovers |
This set packages in not only the right types of clubs, but it has the right number of clubs as well. At this age and at this stage in their golf development, it isn't essential that they carry every possible golf club option. So, although the set doesn't include long irons, additional wedges, etc., it does have the perfect core complement of clubs that teens or other beginners will need.  As their game improves over time, you can certainly add additional clubs at that time.
Some Useful FAQ's About the Aspire XD1 Teen Set
Which teens are the XD1 clubs designed for?
The ideal age range for the XD1 Set is 13 – 16, and they are sized for teens between 5'1" in height up to 5'6" in height.
What is the size (volume) of the driver?
The driver head is 460cc, which is the largest legal size allowed by the United States Golf Association. The larger the head size of a driver, the more forgiving it is, which means that teens aren't always forced to hit the ball exactly on the center of the club face to produce a good drive.
Why does the set only include irons from the 7-iron through the PW?
Amateur golfers of all ages usually find that the longer irons (e.g., the 3-iron through the 6-iron) are difficult to hit effectively. That will be especially true for teen golfers who are just taking up the game. Including these hard-to-hit clubs in the set at this point in their golf development is unnecessary (and unwise), as they would seldom have an opportunity to use them, and would likely have limited success with them if they did. Using the 21° Hybrid that is included in the set instead is a far better option for them and they'll see much better results.
Why is a mallet putter included instead of a blade putter?
It's very likely that teen golfers will mis-hit their putts a good deal of the time.  That means that they'll often strike the ball a bit out toward the toe of the putter or in toward the heel. When mishits like that occur, a putter head will tend to twist open or closed, resulting in putts that roll offline. One of the intrinsic benefits of a mallet putter is that, by design, they have features engineered into the head that enable the putter to resist that tendency to twist. This keeps the putter head more stable at impact, regardless of where on the face the ball is struck. Net result: more putts made.
Are there any other features that make these clubs more playable for teens?
The heads of the irons are oversized. This is a very important game improvement feature for teens or other beginner players. With a larger head, the designers are able to re-position some of its weight out on the perimeter. This "perimeter-weighting" makes the club much more forgiving, enabling these players to see good shot results even when they don't hit the ball perfectly.  Another benefit of a larger head design is the sense of confidence that it inspires in the golfer as they look down at address, feeling that they will be more likely to hit a good shot due to the club's slightly larger profile.
Don't Cut Down Your Old Clubs for Your Teen
There's often a temptation on the part of a parent to simply take an old set of their golf clubs and cut them to down to fit their junior golfer. And although that seems to make sense on one level -- why spend a lot of money on new clubs for a teenager when they'll probably grow out of them pretty soon anyway – it's really not a good idea in terms of their ability to develop a sound, fundamental golf swing.
The heads and shafts of adult golf clubs are much heavier than the heads and shafts of clubs designed for a young teen. And the flex of those adult shafts is also much stiffer than is appropriate for a junior golfer. Simply reducing the length of the shaft does nothing to change the weight of those adult components, and shortening them only serves to make the shafts even more stiff and much less playable for a teen. 
When teens learn the game with clubs like that, that aren't matched to their size and strength, they'll begin to make compensations as they attempt to maneuver those unsuitable clubs, compensations that can lead to harmful swing flaws.  And, sometimes, these swing flaws become woven into the fabric of their swing and can last a lifetime.
While your intentions are good, your teen will be much better off, now and in the future, if they start their development process with clubs that are designed to help them learn and improve. And that means by having clubs with the proper length, lie, shaft flex, weight and grip size. You'll find all of those things in the Aspire XD1 Package Set.
Final Thoughts
Some parents may think that there's a choice to be made between investing in golf clubs for your teen versus investing in lessons. But the reality is that they'll have a difficult time taking advantage of any lessons they get if they have clubs that are not properly suited for them.
Getting your teen golfer off on the right foot by being able to learn the game with weight- and size-appropriate clubs, is an investment that can very well last a lifetime. They'll be able to develop better fundamentals that will allow them to enjoy the game more, and they'll be able to improve far more rapidly.
The Aspire XD1 Teen Packaged Set is an ideal way to get them started.  These are high-quality clubs made specifically for teens, and they are designed with the optimal weight, length, and shaft flex. And you'll see that the price is very manageable, too, particularly when you compare it to the cost of new clubs made by the big-name manufacturers.
Visit the XD1 Teen Product Page for more info.
---