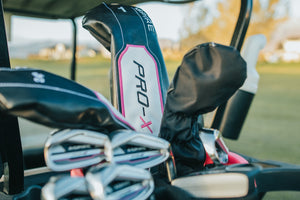 Aspire PRO-X Ladies 16-Piece Complete Golf Club Set Review
By GBB Staff
Introduction
I know a female golfer whose first set of golf clubs was a hand-me-down collection given to her by her father. I'm sure his intentions were good, but there's a good chance that this gesture may have actually had a detrimental effect on how her golf game initially developed. Why? Because clubs that are designed for men will rarely be suitable for women.
Ladies clubs need to be shorter and lighter than men's clubs, with higher lofts and more flexible shafts. These are the club characteristics that suit the profile of the typical lady's golf swing and, unless her clubs have these types of features, it's likely that she won't improve as fast as she could and that she won't enjoy the game as much as she otherwise would.
These thoughts were on my mind when I recently put the Aspire PRO-X Ladies Complete Set to the test on the range and on the course. I'm familiar with many of the other ladies' clubs on the market, and I wanted to see how these stacked up.
So, after a couple days of testing the PRO-X set, what did I learn? I learned that these clubs check all the boxes for women golfers, and are as good or better than most of the competitive sets: 
First,

they are very lightweight

, which allows you to generate a little more swing speed, and therefore more distance.
They are designed to be

very forgiving

, so that you can get away with missing the sweet spot on the club face and still be rewarded with good distance and accuracy.
They are designed in a way that generates a

nice high ball flight

, which will be a welcome change for women who sometimes struggle to get the ball up in the air.
And I was thrilled to learn that the set is

available in two club length options.

 Women taller than 5'3" can select the "Standard" length option, and those who are shorter than 5'3" can opt for the "Petite" length option.  Having fitting alternatives like this based on your height is very rare in women's golf clubs.
I wasn't expecting to be as impressed as I ended up being. In short, they look great, they're made with high quality materials, and they have all the game-improvement design features that will make golf a little easier for you.
Bottom line: If you're a mid-to-high handicap player, or even if you're a beginner just getting started, the Aspire PRO-X ladies set would be an ideal set to take your game to the next level.
A Closer Look
So let's dig in a little deeper to see what makes this set such a great option for you. Here are some of my observations after spending some time with these clubs:
Set Composition
If you like the idea of a simplified buying process, you'll love that this set comes pre-packaged with all the clubs that you'll need. But it doesn't just include all of the standard clubs; it even comes with a putter and a really nice cart golf bag with all of the matching head covers for the woods!
There's no need to go to multiple stores or online sources for the various individual components. The team at Aspire analyzed and determined which specific golf clubs mid-to-high handicap women will need and they've assembled all of those clubs in this complete set.
So when you receive them, you'll be instantly ready to head out to the golf course. It's all included in this comprehensive 16-piece set. Here's the components you'll receive:
Woods: Titanium 12° F-Driver, 3-Wood
Hybrids: 4-Hybrid, 5-Hybrid
Irons: 7-iron thru Pitching Wedge, Sand Wedge
Putter: Mallet-style Putter
Accessories: High Quality Cart Golf Bag, Golf Bag Rain Hood, 4 Matching Headcovers
Driver
Material  -  The driver is made of high-grade, high-quality titanium. Titanium has the unique attribute of being very light but also very strong. As a result, they were able to expand the size of the club head, and to increase the speed of the ball off the face. Faster ball speed = more distance.
Loft  -  It's been shown that, due to a little slower average swing speed, women will generally do much better with a higher loft on their driver. Aspire has accommodated that need by designing the driver with 12° of loft (instead of the 10.5° you'll find on some other drivers). This added loft is one way that makes it much easier to produce the higher ball flights that will help to produce more distance.
Center-of-Gravity  -  To maximize the performance and the launch conditions, they strategically positioned the club head's center-of-gravity (CG) where it will have the most beneficial impact. By having the CG low and toward the rear of the head, you'll find it much easier to get your tee shots flying on a higher trajectory. 
Aerodynamic shaping  -  They didn't stop there, though. They also designed the driver using industry-leading aerodynamics, creating a head shape that is streamlined so that it will move through the air with a little less resistance (i.e., faster). 
3-Wood and Hybrids
The 3-wood that comes in the PRO-X set is made of stainless steel, and it's been designed to make shots easier from any lie, whether you're hitting from the fairway or from the rough. Combined with a lightweight Ladies Flex graphite shaft, you'll also find that you'll be able to hit higher-flighted shots with this fairway wood than you've been able to do in the past.
As for the hybrids, Aspire included not one, but two of them in the set. That was a really smart decision. Women occasionally have difficulties hitting the long irons, and they'll appreciate having the hybrids in the set as a replacement for two of them. Hybrids are a lot easier to hit and easier to get airborne, and this will make your long game much better.
Irons
If you're like most amateurs, you're not always going to find the center of the club face when you hit the ball. When that happens, you've probably experienced how those shots tend to fly much shorter than usual, and are usually off-target as well. But there are ways to combat that problem using intelligent club head design.
The best game-improvement irons on the market help to compensate for those mishits by incorporating design features that make the iron much more "forgiving." This means that, because of the way the engineers designed the club head, the consequences of a mishit are significantly lessened. 
The engineers who designed the PRO-X irons addressed this problem by incorporating a "cavity back" shape in the rear of the head. The extra mass that was removed when creating that cavity was then re-positioned around the perimeter of the head. This "perimeter weighting" effectively expands the size of the sweet spot and is what makes the PRO-X irons much more forgiving.
Putter
I loved the putter that came in the set. It has an attractive mallet head shape, which I tend to prefer over the standard "blade" shape. Why? Forgiveness is just as important in a putter as it is in any other club...and possibly more so.  Slight mishits can cause the putter head to twist slightly which can leave the face open or closed at impact. That can be the difference between making or missing a putt. Mallet designs, like in the PRO-X putter, are usually more resistant than blades to this twisting effect, so that the face stays more square even on off-center hits.
Conclusion
There are several things that stand out the with the Ladies Pro-X golf clubs. 
First,

they are very easy to hit

, and seem to do a lot of the work for you.
Second, I noticed that

these clubs naturally hit the ball on a nice high trajectory

. Getting the ball up in the air is effortless and that, in turn, translates to added distance.
And third,

I love how forgiving they are

. It doesn't require a precision strike on the sweet spot to get good results. That's a big deal for amateurs who are trying to get better, and have some more fun in the process.
Although it may not be important to everyone, it doesn't hurt that these clubs are also really attractive. They have a sleek, modern look that will probably get you a few compliments from your playing partners.
If you're in the market for a new ladies golf set, you really should give the Aspire PRO-X Ladies Complete Set a serious look. Easy to hit, high ball flight, good distance, forgiving? What's not to like.  
Visit the PRO-X Product Page for more info.
---